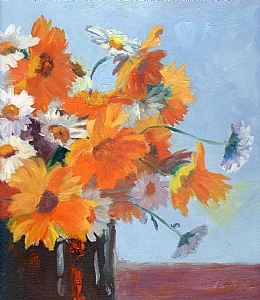 "Yellow and White" Oil/panel
I sat on a lawn chair at the back of my tent listening to the young couple talking about one of my oil paintings. They had recently moved into a new house and were looking for some original artwork to fill the spaces. Their earlier house had cheap prints from department stores on the walls, many were quite old; these were gifts from relatives or friends. Some of the prints had faded over the years and were ready to go. The man of the house wanted to fill up the large wall space over the couch, and said he loved "Forsythia", but the woman was thinking of the budget that comes with a new house and all the necessary expenses. They wanted a paintings with yellowish warm colors to work with the muted purple on the walls. They even brought along a paint color chart of their wall color from the hardware store-"these people are organized", I thought. As it happened they also liked some of the small oils like "Yellow and White"; the more they discussed their choices the harder it was to reach an agreement. It looked like they might not buy a painting at all because they couldn't afford a big one and felt a smaller one wouldn't take up enough space.
Here's where I got into the conversation because I can appreciate both views. My comments were as follows:
Think about whether it is important to get a large painting like "Forsythia" now or a few small ones to take care of smaller walls here and there.
If the wall space above the couch is your first priority but your budget won't allow it, then perhaps you can buy it on the lay-a-way plan (pay me smaller installments each month until paid off (6 months is the deadline for last payments), then come pick it up or I'll ship it to you.
If small works are stopping you because of their size, remember, size isn't everything. (That usually produces a double take or a chuckle from them).
Buying two or three smaller pieces with harmonizing themes and colors can fill up the same space a larger painting would, or add colorful touches at small locations around a room.
Often the cost of 3 smaller works will be less than the cost of a larger painting.
These choices seemed to satisfy them. They bought 3 small works with reds and oranges for the dining area, and they'll decide on what to place in the living room later.
Next time you are looking for original art for your place remember, small paintings can fit your decorating plans and budget.
Visit http://www.landscapesofnewengland.com to see many small paintings-and some large ones too!
Best regards,
Sheila