CONTEMPORARY LANDSCAPE PAINTINGS
"Autumn Primary" oil on panel
My contemporary paintings reflect time of day, sunlight and shadows, and changing seasons. Creating textures with both painting knives and brushes lends unique surface effects to my work. I love bright colors and sometimes exaggerate them to generate strong feelings about a subject. Click the links at the left to see my gallery of works, or subscribe to my newsletter to learn about my life as an artist and upcoming events. Purchase original paintings directly from this website on the contact link or schedule an appointment to visit the studio for a private art showing by clicking here.
Scroll down on this page for new announcements.
NEW ANNOUNCEMENTS!!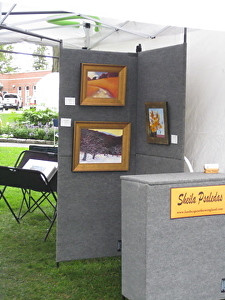 LOOK FOR MY BOOTH WHEN YOU VISIT SHOWS THIS SUMMER AND FALL
Visit the Art on Bartlett Mall in Newburyport, MA. on the weekend of July 26-27. Mention my website and remind me to give you the discount on framed works at this show.
Fine art prints of selected works can also be purchased at Fineartamerica.com click here etc. paintings (or visit http://www.fineartamerica.com (then in the search bar) type in 'Sheila Psaledas' to see some of my paintings offered as prints.